2012 Northeast Wildlife Trackers Conference
Saturday, October 20, 2012
9:30 AM to 4:00 PM – 9:00 AM sign-in
$30 per person – registration required
Doyle Center, Leominster, MA
Registration required
KEYNOTE SPEAKER: Roland Kays
2012 Keynote Speaker brief biography (pdf)
Plus 7 presentations on a wide variety of wildlife topics
AGENDA –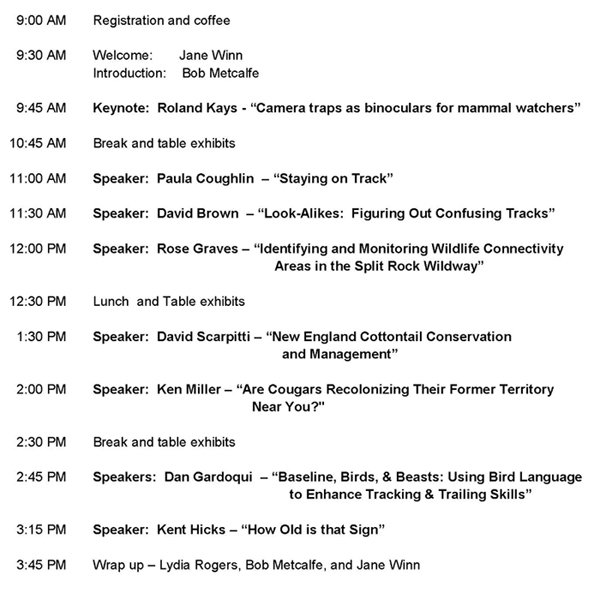 Download pdf version of the agenda
Brief biographies of other speakers (pdf)
Registration required. No refunds after October 10.
To register (through BEAT): Register Here. After registering on-line you may pay by check or on-line using a credit card or paypal. Or you may print out the Registration Form and mail it in with a check for $30 payable to BEAT.
Please bring your own bag lunch and refillable mug. Coffee/tea and bagels at sign-in. Drinks and snacks provided.
See below for a list of nearby restaurants. There are a number of fast food places on Route 12. You may also want to plan to join friends for dinner after the conference.
Bring a photo of a track or interesting natural object to mystify others. There will be a table and a board for your "tracking stumpers" This was a great success last year! Please bring some weird wildlife related object (or two or three) that you think others might not recognize. We will have a table for people to explore. (Questions about the stumper table? Contact Lydia Rogers.)
This conference is organized by Bob Metcalfe of New England Discovery, Lydia Rogers with Walden Keeping Track and the Wildlife Passage Taskforce, and Jane Winn of Berkshire Environmental Action Team (BEAT).
Area Information:
Doyle Conservation Center
464 Abbott Avenue, Leominster, MA
Directions
Applebee's Neighborhood Bar and Grill
251 N Main St
Leominster, MA 01453
(978) 466-9223
applebees.com
Singapore Restaurant & Lounge -Great Chinese!
170 Whalon St
Fitchburg, MA 01420
(978) 345-0132
Outback Steakhouse
865 Merriam Ave
Leominster, MA 01453
(978) 840-3377
outback.com
There are also Sal's Pizza and a Friendly's
Photography:
Chris Erb
Pat Liddle
Jane Winn
Contacts:
Jane Winn
Lydia Rogers
Bob Metcalfe
This website is hosted by Berkshire Environmental Action Team